Carbondale, Pennsylvania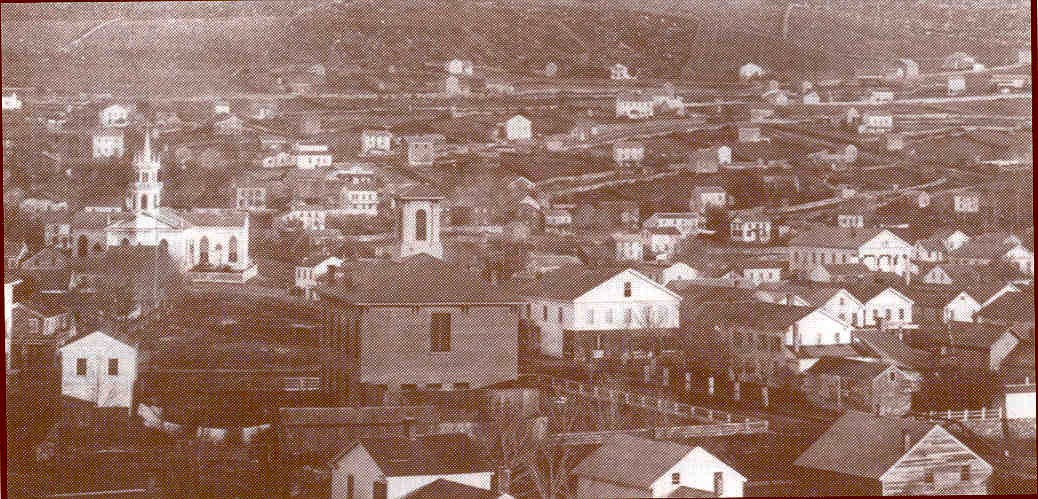 Carbondale in the 1860s.
Carbondale is located in Lackawanna county about 15 miles northeast of Scranton and is an important city in Pennsylvania history. Founded in 1822, the land which became the city was developed by the Wurts brothers, founders of the Delaware and Hudson Canal Company and later the Delaware and Hudson Railroad. Carbondale is the 4th oldest city in the Commonwealth (behind only Philadelphia, Lancaster and York). And the Pioneer City, as it calls itself, was just that, a pioneering city of firsts. Carbondale was the first city in America with an underground mine and the first coal breaker in the country was erected there. Perhaps more important, Carbondale was also the first city in America with a commercially successful railroad.
"The anthracite coal deposits that the Wurts' discovered here in Northeastern Pennsylvania were the richest deposits of anthracite coal in the world," writes historian Dr. S. Robert Powell. "They made this discovery while America was in the midst of its first fuel crisis, so they built a canal to transport all this coal to New York City."
They had to move the hard coal to the canal at Honesdale for shipment east, so the Wurts brothers built the Delaware & Hudson Gravity Railroad. Gravity railroads moved coal up and over the hills and mountains. Dozens of small interconnected coal cars were linked together, and a stationary steam engine would draw them up the rise to the engine house via a cable. Then they coasted down the slope until the next hill, where the process would be repeated. Hundreds of thousands of tons of anthracite coal traveled east to provide heat and light to New York City.
The D&H's first locomotive, the Stourbridge Lion, made history in 1829 as the first locomotive to run on rails in the United States. Carbondale ultimately became a main terminal of the D&H as well as a destination for many other regional railroads. They all came for the clean "black diamond" energy—anthracite coal–found in abundance beneath and around the city. Countless tons of anthracite also traveled from Carbondale to the Midwest via rail and the Erie Canal. Carbondale was, for decades, a boom town.
Carbondale's fortunes rose and fell with the rise and fall of anthracite coal mining. Over time, the coal became less economically viable to mine in and around Carbondale. Nationally, the anthracite industry reached a peak of 100 million tons mined in 1917; by 1950 it had dropped by more than half. The city of Carbondale's financial health mirrored the loss of business and industry which the mines and railroads had provided for so many decades.

Carbondale 1890